Fleet monitoring in real time
Keep an eye on your fleet, anywhere, anytime with Trendfire Truck-telematics
Truck- Telematics
Manufacture independent solution
Vehicle positioning, driving style analysis, monitoring of driving times and the automatic archiving of a broad set of truck- and driver-related data are just some of the features that Trendfire Truck Telematics provides. The numerous features and the advanced technology of our hardware and software make Trendfire Truck Telematics the perfect system for managing your fleet.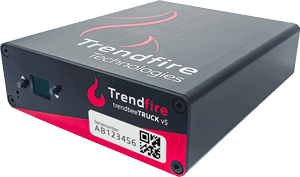 Fuel savings with driver evaluations
You know how much mileage your vehicles rack up each month. Optimized minimization of fuel consumption makes a significant difference to your bottom line. You can reduce the fuel consumption rates of your drivers via targeted training sessions based on our driver evaluation and skill improvement capability. We developed our driver evaluation program by working closely with clients, drivers, and driving instructors. In addition to driving style, our program takes into account the difficulty of the job, proactive driving, RPM patterns, braking behavior, waiting times with the engine running, use of different braking systems, and other parameters. You receive comparative information on your drivers' driving styles independent of vehicle type and route. This allows you to improve driving style in a targeted manner, reduce fuel consumption, and save on servicing costs. It also provides a robust basis for a fair, performance-based driver evaluation system which many of our customers, and their drivers, favor.
Reliable GPS positioning
Thanks to our reliable GPS positioning, you always know exactly where your vehicles are. Our GPS positioning supports additional features such as area monitoring with geofencing, permitting you to specifically monitor a certain location or a loading point. Once your vehicle arrives at or leaves the area, you are automatically notified. This enables a wide range of customer options, such as downtime optimization, theft protection, etc.
Driving times in real time
With roadlox you can always keep an eye on the driving, working, and resting times of your drivers, allowing you to avoid unnecessary violations, fines, and liability. Times are automatically recorded, and roadloxTRUCK not only takes into account the legally mandated driving and rest times, it provides proactive warnings as well as pending violations. roadlox helps your dispatchers manage their day-to-day tasks more effectively and reduces the time-consuming logging of working hours by the driver.
Expense reports accurate down to the minute
At the press of the button, Trendfire Expense Reports provides expense reporting accurate to the minute. The commencement and end of work are recorded automatically via geofencing or based on driving and resting times. We uses this data to automatically calculate expenses. All data can easily be exported to an Excel sheet or a PDF file at the press of a button, then edited locally.
Vehicle interface evaluation, CAN interfaces (J1708/1939)
Our vehicle computer, trendbeeTRUCK, transfers all relevant vehicle data such as auxiliary drives, RPM, tank fill level, speed and much, much more.
Export data as an Excel file
Analyze the movements of your entire fleet based on vehicle positioning data with Trendfire Truck Telematics. Generate clear and easily configurable reports. With just a click, you can export these reports as Excel sheets for any special analyses you might want.